THE "DISPATCH OF EDUCATION" TO "RURAL COMMUNITIES" FOR "NATIONAL UNITY" - THE MAGICAL BUZZWORDS OF CULTURAL GENOCIDE
Palavras-chave:
Indigenous, Rural, Bilingual, Education, Cultural Genocide
Resumo
In July 2017, as delegates of the Universidade Federal do Acre we were invited to talk at the I Seminario Internacional de Educación Rural in Peru, in the cities of Lircay and Lima. In this article, we focus specifically on the debate that took place in Lima, in order to identify epiphanic passages that expose crucial conceptions of "rural" and "bilingual" education and unearth the ways in which these concepts are used as disguising paraphrases meant to depoliticise and efface Indigeneity together with its profound political significance. In order to accomplish this task, we draw upon an unsystematic approach to some principles of corpus linguistics, and combine our first-hand impressions with a review of Peruvian and non-Peruvian literature on the political implications of Indigeneity. We then conclude by identifying a substantially undeclared agenda that envisages the "pacific" and "painless" perpetuation of an ongoing cultural genocide.
Referências
AMES, Patricia. Desigualdad y territorio en el Perú : una geografía jerarquizada, Revista Argumentos, vol. 4, n. 1, 2010, n.p.
ANZALDÚA, Gloria. Borderlands: The new mestiza / La frontera, 2ª ed., San Francisco, Aunt Lute Books, 1999.
ARRIMADAS, Inés. Discurso en pleno sobre declaración de independencia. Parlament de Catalunya, 10 October 2017. <https://youtu.be/C6DCIaI75Aw>
BAGNO, Marcos. Preconceito lingüístico: o que é, como se faz. São Paulo: Edições Loyola, 1999.
BAKER, Paul; GABRIELATOS, Costas; KHOSRAVINIK, Majid; KRZYŻANOWSKI, Michał; MCENERY, Tony; WODAK, Ruth. A useful methodological synergy? Combining critical discourse analysis and corpus linguistics to examine discourses of refugees and asylum seekers in the UK press. Discourse & Society, vol. 19, n. 3, p. 273-306, 2008.
BRUN, Hugo Zenteno. Acercamiento a la visión cósmica del mundo Andino. Punto Cero. Universidad Católica Boliviana, 2009, vol. 14, n. 18, pp. 83-89.
DIGEIBIR (Dirección General de Educación Intercultural Bilingüe y Rural) Hacia una Educación Intercultural Bilingüe de Calidad Propuesta Pedagógica, Lima: Peruvian Ministry of Education, 2013.
GASTELUMENDI, Cecilia Méndez. De indio a serrano: nociones de raza y geografía en el Perú (siglos XVIII-XXI). Histórica, 2011, vol. 35, n. 1, pp. 53-102.
GUZÑAY, Juan Illicachi. Desarrollo, educación y cosmovisión: una mirada desde la cosmovisión andina. Universitas, 2014, n. 21, pp. 17-32.
HORNBERGER, Nancy H. Can Peru's rural schools be agents for Quechua language maintenance?. Journal of Multilingual & Multicultural Development, v. 10, n. 2, p. 145-159, 1989.
HOYOS, Francisco Martínez. El discurso de la hispanofobia: racismo y xenofobia en el nacionalismo catalán. Aportes. Revista de Historia Contemporánea, v. 29, n. 84, 2014, pp. 183-192.
HYNSJÖ, Disa; DAMON, Amy. Bilingual education in Peru: Evidence on how Quechua-medium education affects indigenous children's academic achievement. Economics of Education Review, v. 53, p. 116-132, 2016.
MESSINA, Marcello; DI SOMMA, Teresa; OLIVEIRA, Carlos Frederico Silva de; NOBRE, Jorge Neto de Andrade. Sebastião Salgado, ou a lógica enervante do colonialismo tardio. Revista de Estudos de Literatura, Cultura e Alteridade - Igarapé, v. 11, n. 1, 2019, pp. 20-36.
MIGNOLO, Walter. Epistemic Disobedience, Independent Thought and Decolonial Freedom. Theory, Culture & Society, vol. 26, n. 7-8. 2009, pp.159-181.
MUÑOZ MONGE, Antonio. El quechua y la identidad nacional. El Peruano, 29 October 2017 <https://bit.ly/2HiF8SC>
PERERA, Suvendrini. 'Dead exposures: trophy bodies and violent visibilities of the nonhuman', Borderlands, v. 13, n. 1, 2014, p. 1-26.
PERERA, Suvendrini; PUGLIESE, Joseph. White Law of the Biopolitical. Journal of the European Associate of Studies on Australia, v. 3, n. 1, 2012, pp. 87-100.
PERU, Political Constitution of Peru, 1993 [amended 2009] <https://bit.ly/2GUOvqk>
PUGLIESE, Joseph. Geocorpographies of Torture. Australian Critical Race and Whiteness Studies Association Journal, v. 3, n. 1, p. 1-18, 2007;
REMY, María Isabel. Historia de las comunidades indígenas y campesinas del Perú. Documento de Trabajo 202. Serie Sociología y Política, n. 48, 2013.
CUSICANQUI, Silvia Rivera. La noción de" derecho" o las paradojas de la modernidad postcolonial: indígenas y mujeres en Bolivia. Temas Sociales, n. 19, p. 27-52, 1997.
RODRÍGUEZ LOZANO, Efraín. ¿Barreras lingüísticas en la educación? La influencia de la lengua materna en la deserción escolar. Revista Economía, vol. 35, n. 69, 2012, pp. 83-151.
ROUSSEAU, Stéphanie, La ley de consulta previa y las paradojas de la indigeneidad, Revista Argumentos, v. 6, n. 5, 2012. <http://revistargumentos.org.pe/ley_de_consulta_previa.html>.
SALAZAR-SOLER, Carmen. ¿Qué significa ser indio o indígena? Reflexiones sobre estas categorías sociales en el Perú andino. Nuevo Mundo Mundos Nuevos, 2013. <https://bit.ly/2KPayku>
TEUBERT, Wolfgang. My version of corpus linguistics. International Journal of Corpus Linguistics, v. 10, n. 1, p. 1-13, 2005.
UDEA, Acerca de UDEA, n.d. <https://bit.ly/2KR0V4Y>
VICH, Víctor. El discurso sobre la sierra del Perú: la fantasía del atraso. Crítica y Emancipación, n. 3, pp. 155-168, 2010.
WOLFENZON, Carolyn. El "Pishtaco" y el conflicto entre la costa y la sierra en Lituma en los Andes y Madeinusa. Latin American Literary Review, vol. 38, no. 75, 2010, pp. 24-45.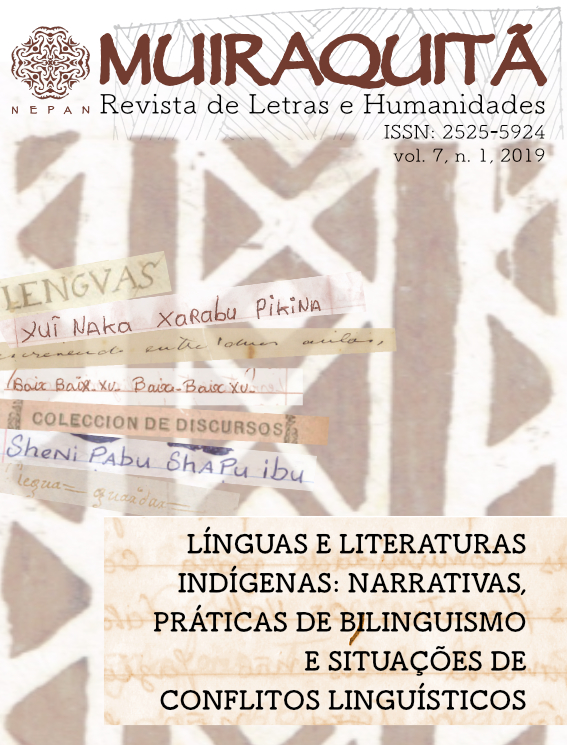 Downloads
Como Citar
Messina, M., & Di Somma, T. (2019). THE "DISPATCH OF EDUCATION" TO "RURAL COMMUNITIES" FOR "NATIONAL UNITY" - THE MAGICAL BUZZWORDS OF CULTURAL GENOCIDE. Muiraquitã: Revista De Letras E Humanidades, 7(1). https://doi.org/10.29327/212034.7.1-8