THE PERCEPTION OF THE INFLUENCE OF FILMS ON SPIRITUALITY. MOVING TOWARDS A CULTIVATION THEORY PERSPECTIVE
Palavras-chave:
Adventismo, Teoria do Cultivo, Religião, Filmes, Mídia, Espiritualidade
Resumo
A relação entre cristianismo e cinema tem sido conflitante desde o surgimento deste meio. A preocupação de que os filmes possam afetar negativamente a espiritualidade tem levado várias denominações cristãs a rejeitar os filmes, por um longo tempo. Mais recentemente, porém, esta resistência tem diminuído, mesmo em igrejas consideradas conservadoras. Este estudo revela a mudança de percepção que uma igreja protestante tem dos filmes no campo da espiritualidade. Através de uma pesquisa online com 199 Adventistas do Sétimo Dia no Brasil e o uso da Teoria do Cultivo na interpretação dos resultados, observou-se que para os adventistas modernos, alguns filmes, mesmo não-religiosos, podem ser considerados como uma influência positiva para a espiritualidade.
Referências
ARENDT, F. (2010). Cultivation effects of a newspaper on reality estimates and explicit and implicit attitudes. In: Journal of Media Psychology, Volume 22, p. 147-159. Disponível em: https://doi.org/10.1027/1864-1105/a000020. Acesso em 05 jun. 2020.


BERGER. A. Essentials of Mass Communication Theory. London: Sage Publications, 1995.


BOND, B. J., & DROGOS, K. L. Sex on the shore: Wishful identification and parasocial relationships as mediators in the relationship between Jersey Shore exposure and emerging adults' sexual attitudes and behaviors. In: Media Psychology, Volume 17, número 1, Janeiro 2014. Disponível em: doi:10.1080/15213269.2013.872039. ISSN 1521-3269. Acesso em 02 jun 2020.


CAWKWELL, T. The new filmgoer's guide to God: from the passion of Joan of Arc to Philomena. UK: Matador, 2014.


DOUKHAN, L. Drama and theater. In: D. Fortin, & J. Moon (Ed.). The Ellen G. White encyclopedia, 1319-1321.Hagerstown, MD, USA: Review and Herald Publishing Association, 2013.


ELLIS, L. Seventh-day Adventists and the movies: An historical and contemporary exploration of the conflict between Christianity and visual media. Ann Arbor, MI: Regent University, 2019.


FETZER, J. E. Multidimensional measurement of religiousness/spirituality for use in health research: A report of the Fetzer Institute/National Institute on Aging working group. Kalamazoo, MI: Fetzer Institute, 2003.


FINLEY, M. Hollywood and holiness. Adventist Review, Volume 11, Novembro 1991. Disponível em: https://documents.adventistarchives.org/Periodicals/RH/RH19911114-V168-46.pdf . Acesso em 15 nov 2020.


FORBES. B. D., & MAHAN, J. H. Religion and popular culture in America. 3a. ed. Oakland, CA: University of California Press, 2017.


GERBNER, G. Cultural indicators: The case of violence in television drama. Annals of American Academy of Political and Social Science,Volume 338, p. 69-81, 1970.


GERBNER, G.; GROSS, L.; MORGAN, M. & SIGNORIELLI, N. Living with television: The dynamics of the cultivation process. In J. Bryant & D. Zillman (eds.). Perspectives on media effects. Hilldale, NJ: Lawrence Erlbaum Associates. p. 17–40, 1986.


GOMES, J. H. A teledramaturgia bíblica pela TV Record: Sentidos e mediações a partir da produção da mensagem. Ciências Sociais e Religião, Porto Alegre, Ano 19 Volume 27, p. 47-71, dezembro 2017.


GRIFFIN, E., LEDBETTER, A., & SPARKS, G. A first look at communication theory, 10th ed. Boston: McGraw-Hill, 2019.


HERNANDEZ, E. A. Using Cultivation Theory to analyze college student attitudes about the dating process following exposure to romantic films. Texas: Tech University, 2012.


JANICKE. S., RAMASUBRAMANIAN. S. Spiritual media experiences, trait transcendence, and enjoyment of popular films. Journal of Media and Religion, Volume 16, Número 2, p. 51-66. 2017


KANYAT, L. O adventista e a ficção televisiva. In: A. Novaes & F. Carmo (Orgs.). O adventista e a cultura pop, p. 105-128. Engenheiro Coelho, SP: Unaspress. 2017


KEYTON, J. Communication research: Asking questions, finding answers. EUA: McGraw-Hill Higher Education. Edição do Kindle: p. 184-186. 2018.


LINDVALL. T.Religion and film. Part II: Theology and pedagogy. Communication Research Trends, Volume 24, Número 1, p. 1-43. 2005. Disponível em: http://cscc.scu.edu. Acesso em 12 jun 2020.


MORGAN, M., SHANAHAN, J., & SIGNORIELLI, N. Yesterday's new Cultivation, tomorrow. Mass Communication and Society. Volume 18, Número 5, p. 674–699. Setembro de 2015.

NASCIMENTO, R., CRUZ, F. O adventista e os filmes. In NOVAES, A. & CARMO, F. (Orgs.). O adventista e a cultura pop. Engenheiro Coelho, SP: Unaspress: p. 131-149. 2017.


NELSON, D. Making Ellen White relevant to third millennials. In Timm, A; Esmond, D. The gift of prophecy in scripture and history. EUA: Review and Herald. 2016.


NOVAES, A. O problema adventismo-televisão: uma análise do pensamento adventista sobre a TV a partir da tipologia de H. Richard Niebuhr em Cristo e a cultura. Universidade Católica de São Paulo, 2016.


NOVAES, A. A. Seventh-day Adventist in the Digital Age. In GRANT, A., STURGILL, A., CHEN, C., STOUT, D. Religion online: How digital technology is changing the way we worship and pray.Volume 2, p. 93-108. 2019.


POTTER, J. Media literacy, Los Angeles: Sage. 2019.


RODRIGUES, J. G. Política, carisma, poder e mídia: lógicas interpretativas da Igreja Universal do Reino de Deus. Horizonte - Revista De Estudos De Teologia E Ciências Da Religião. Volume 7, Número 13, p. 39-68. 2008 Disponível em: http://periodicos.pucminas.br/index.php/horizonte/article/view/422. Acesso em Agosto 2020.


RUBIN, A. An examination of television motivation. Communication Research,Volume 8, Número 2, p. 141–165, 1981.


SANTOS, J. Uso da internet na evangelização adventista no Brasil. Kerygma, Volume 6, Número 1, p. 140-142, 2010.


SUNDAR, S.; LIMPEROS, A. Uses and Grats 2.0. New gratifications for new media. Journal of Broadcasting & Electronic Media. Volume 57, Número 4, p. 504-525, 2013.


SURHONE, L., TIMPLEDON, M., MARSEKEN, S. Tukey's Range Test. VDM Publishing. 2010. Disponível em: https://books.google.com.br/books?id=b_OycQAACAAJ. Acesso em abril 2020.


TIMM, A. The sanctuary and the three angels' messages 1844-1863: Integrating factors in the development of Seventh-day Adventist doctrines. 1995. Tese (Ph. D.) -Andrews University, Seventh-Day Adventist Theological Seminary.


WILLIAMS, D. Virtual cultivation: online Worlds, offline perceptions. Journal of Communication, Volume 56, Número 1, P. 69–87. 2006


WHITE, A. Dramatic productions in SDA institutions. 1963. Disponível em: http://www.whiteestate.org/issues/Drama.html. Acesso em: 12 maio 2020.


WHITE. E. Messages to young people. Hagerstown, MD: Review and Herald Publishing Association. 1930.


WHITE. E. Counsels for the church. Nampa, ID: Pacific Press Publishing Association. 1957.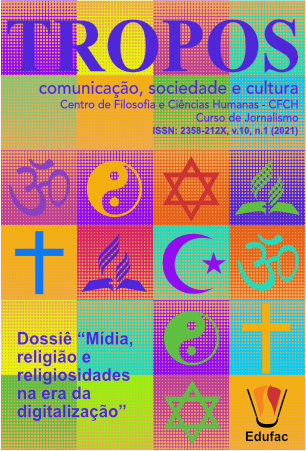 Downloads
Como Citar
Souza Magalhães, C. . (2021). THE PERCEPTION OF THE INFLUENCE OF FILMS ON SPIRITUALITY. MOVING TOWARDS A CULTIVATION THEORY PERSPECTIVE. TROPOS: COMUNICAÇÃO, SOCIEDADE E CULTURA (ISSN: 2358-212X), 10(1). Recuperado de https://periodicos.ufac.br/index.php/tropos/article/view/4443
Seção
Dossiê - Mídia, religião e religiosidade na era da digitalização
Licença
Transferência de direitos autorais:
Declaro que após aprovado para publicação a Revista Tropos editada pela Universidade Federal do Acre (UFAC), passará a ter os direitos autorais do trabalho, que se tornarão propriedade exclusiva da Revista, sendo permitida a reprodução total ou parcial desde que devidamente referenciada.