OCCURRENCE AND ANTIMICROBIAL ACTIVITY OF AGARICOMYCETES OF THE STATE OF ACRE, BRAZIL
Palavras-chave:
Mushrooms; antibacterial activity; Oudemansiella cubensis
Resumo
O objetivo deste trabalho foi descrever a ocorrência e avaliar a atividade antimicrobiana de extratos de basidioma de Agaricomicetos coletados em dois fragmentos de floresta amazônica no Estado do Acre. As coletas foram realizadas no Parque Zoobotânico e na Fazenda Experimental Catuaba. Extratos etanólicos foram preparados a partir de 31 basidiomas de Agaricomicetos e avaliados pelo teste cup plate. Os extratos etanólicos foram testados contra a bactéria Streptococcus pneumoniae, Staphylococcus aureus, Escherichia coli, Klebsiella pneumoniae e o fungo Candida albicans. Foram coletados 69 Agaricomicetos, classificados nas ordens Agaricales (53,6%), Polyporales (40,6%) e Auriculariales (5,8%). Foram identificados 53,6% dos basidiomicetos coletados, distribuídos em 8 famílias, 12 gêneros e 7 espécies. Dos 31 extratos etanólicos testados para atividade antimicrobiana, o extrato de Agaricomycetes Polyporales 5.221 e Oudemansiella cubensis apresentou atividade antibacteriana contra S. aureus. Este estudo contribuiu para o primeiro relato de atividade antibacteriana de O. cubensis.
Palavras-chave: Cogumelos; atividade antibacteriana; Oudemansiella cubensis.
Referências
MA, G.; YANG, W.; ZHAO, L.; PEI, F.; FANG, D.; HU, Q. A critical review on the health promoting effects of mushrooms nutraceuticals. Food Science and Human Wellness, v. 7, n. 2, p. 125-133, 2018.
CHEN, Y; GU, X; HUANG, S; LI, J; WANG, X; TANG, J. Optimization of ultrasonic/microwave assisted extraction (UMAE) of polysaccharides from Inonotus obliquus and evaluation of its anti-tumor activities. International Journal of Biological Macromolecules v. 46, p. 429-435, 2010.
DUDKA, M. M; JASZEK, M; BLACHOWICZ, A; REJCZAK, T. P; MATUSZEWSKA, A; JAROSZUK, M. O; STEFANIUK, D; JANUSZ, G; SULEJ, J; SZERSZEN, M. K. Fungus Cerrena unicolor as an effective source of new antiviral, immunomodulatory, an anticancer compounds. International Journal of Biological Macromolecules, v. 79, p. 459-468, 2015.
HELENO, S. A; BARROS, L; MARTINS, A; MORALES, P; RUIZ, V. F; GLAMOCLIJA, J; SOKOVIC, M; FERREIRA, I. C.F.R. Nutritional value, bioactive compounds, antimicrobial activity and bioaccessibility studies with wild edible mushrooms. LWT - Food Science and Technology, v. 63, p. 799-806, 2015.
CASTRO, A. J. G; CASTRO, L. S. E. P. W; SANTOS, M. S. N; FAUSTINO, M. C. G; PINHEIRO, T. S; DORE, C. M. P; BASEIA, J. G; LEITE, E. L. Anti-inflamatory, antiangiogenenic and antioxidant activities of polysaccharide-rich extract from fungi Caripia montagnei. Biomedicine e Nutrition Preventive, v. 4, p. 121-129, 2014.
REN, L.; HEMAR, Y.; PERERA, C. O.; LEWIS, G; KRISSANSEN, G. W; BUCHANAN, P. K. Antibacterial and antioxidant activities of aqueous extracts of eight mashrooms. Bioactive Carbohydrates and Dietary Fibre, v. 3, p. 41-51, 2014.
ENSHASY, H. A; KAUL, R. H. Mushroom imunomodulators: unique molecules with unlimited applications. Trends in Biotechnology, v. 31, n. 12, p. 668 - 677, 2013.
YASIN, H.; ZAHOOR, M.; YOUSAF, Z.; AFTAB, A.; SALEH, N.; RIAZ, N.; SHAMSHEER, B. Ethnopharmacological exploration of medicinal mushroom from Pakistan. Phytomedicine, v. 54, p. 43-55, 2019.
OYETAYO, V. O. Free radical scavenging and antimicrobial properties of extracts of wild mushrooms. Brazilian Journal of Microbiology, v. 40, n. 2, p. 380-386, 2009.
SMÂNIA, A.; MONACHE, F. D.; SMÂNIA, E. F. A.; GIL, M. L.; BENCHETRIT, L. C.; CRUZ, F. S. Antibacterial activity of a substance produced by the fungus Pycnoporus sanguineus (Fr.) Murr. Journal of Ethnopharmacology, v. 45, p. 177-181, 1995.
ISHIKAWA, N. K.; KASUYA, M. C. M.; VANETTI, M. C. D. Antibacterial activity of Lentinula edodes grown in liquid medium. Brazilian Journal of Microbiology, v. 32, p. 206-210, 2001.
WISBECK, E. ROBERT, A.; FURLAN, S. A. Avaliação da produção de agentes antimicrobianos por fungos de gênero Pleurotus. Revista Saúde e Ambiente/Health and Environment Journal, v. 3, n. 2, p. 7-10, 2002.
ROSA, L. H.; MACHADO, K. M. G.; JACOB, C. C.; CAPELARI, M.; ROSA, C. A.; ZANI, C. L. Screening of Brazilian basidiomycetes for antimicrobial activity. Memórias do Instituto Oswaldo Cruz, v. 98, n. 7, p. 967-974, 2003.
CARVALHO, M. P. Avaliação da Atividade Antimicrobiana dos Basidiomicetos Lentinula edodes, Lentinus crinitus, Amauroderma sp. e Pycnoporus sanguineus. 2007. 102 f. Dissertação (Mestrado em Microbiologia Agrícola e Ambiente) - Universidade Federal do Rio Grande do Sul, Porto Alegre – RS.
BEKAI, L. H. Atividade antibiótica do fungo Antrodia albida (Fr.) Donk. cultivado em laboratório. 2010. 68 f. Dissertação (Mestrado em Biotecnologia) - Universidade Federal de Santa Catarina, Florianópolis – SC.
VANDERLINDE, D. G.; ONOFRE, S. B. Atividade antimicrobiana de metabólitos produzidos pelo fungo Pycnoporus sanguineus (Linnaeus: Fries) Murrill. Revista Saúde e Pesquisa, v. 3, n. 1, p. 11-16, 2010.
AVIZ, G. A. Ação antimicrobiana do cogumelo Agaricus subrufescens sobre os micro-organismos gram-negativos Shigella flexneri, Salmonella typhimurium e Escherichia coli, causadores de infecção em humanos. 2013. 41 f. (Monografia), Universidade Católica de Brasília, Brasília – DF.
ROSENBERGER, M. G. Atividade antimicrobiana de cogumelos (Agaricales) nativos da floresta estacional do oeste do Paraná. 2018. 101 f. Dissertação (Programa de Pós-Graduação em Botânica) - Universidade Federal do Paraná, Setor de Ciência Biológicas, Palotina – PR.
BACH, F.; ZIELINSKI, A. A. F.; HELM, C. V.; MACIEL, G. M.; PEDRO, A. C.; STAFUSSA, A. P.; ÁVILA, S.; HAMINIUK, C. W. I. Bio compounds of edible mushrooms: in vitro antioxidant and antimicrobial activities. LWT, v. 107, p. 214-220, 2019.
ATHAYDE, M. M. S. Citoxidade e atividade antimicrobiana de extratos de duas cepas do fungo Pycnoporus sanguineus oriundas da Amazônia. 2011. 51 f. Tese (Doutorado em Odontologia na área de Farmacologia, Anestesiologia e Teraupêutica) - Universidade Estadual de Campinas, Faculdade de Odontologia de Piracicaba, Piracicaba – SP.
OLIVEIRA, K. K. C. Atividade antimicrobiana de basidiomicetos ocorrentes na Amazônia. 2014. 68 f. Dissertação (Mestrado em Biotecnologia) - Universidade Federal do Amazonas, Manaus – AM.
SANTOS, G.; S.; PETERS, L.; P.; CARVALHO, C.; M. Study of Antibacterial Activity of Amazonian Agaricomycetes Mushrooms from Brazil. International Journal of Medicinal Mushrooms, v. 22, n. 6, p. 573-580, 2020.
VARGAS–ISLA, R.; CABRAL, T. S.; ISHIKAWA, N. K. Instruções de coleta de macrofungos agaricales e gasteroides. Manaus: Editora INPA, 2014.
RECK, M. A.; SILVEIRA, R. M. B. Polyporales (Basidiomycota) no Parque Estadual de Itapuã, Viamão, Rio Grande do Sul. Revista Brasileira de Biociências, v. 6, n. 3, p. 301-314, 2008.
LARGENT, D.; JOHSON, D.; WATLING, R. How to identify mushroons to genus III: Microscopicfeatures.1 ed. Eureka, CA: Mad River Press Inc., 1977.
KORNERUP, A. & WANSCHER, J.H. 1963. Taschenlexikon der Farben. Ed. Musterschmidt, Zurich.
GUGLIOTTA, A. M.; CAPELARI, M. Taxonomia de basidiomicetos. In: BONONI, V. L. R.; GRANDI, R. A. P. Zigomicetos, Basidiomicetos e Deuteromicetos: Noções básicas de taxonomia e aplicações biotecnológicas, São Paulo: Instituto de Botânica, Secretaria de Estado do Meio Ambiente, 1998, p. 69-102.
GIMENES, L. J. Fungos Basidiomicetos - Técnicas de coleta, isolamento e subsídios para processos Biotecnológicos. 2010. (Curso de Capacitação de Monitores e Educadores). Instituto de Botânica – São Paulo.
RYVARDEN L, JOHANSEN I. A preliminary polypore flora of East Africa. 1 ed. Oslo: Fungiflora, 1980.
GILBERTSON RL, RYVARDEN L. North American Polypores. 1 ed. Oslo: Fungiflora, 1986.
GILBERTSON RL, RYVARDEN L. North American Polypores. 2 ed. Oslo: Fungiflora, 1987.
RYVARDEN L. Genera of Polypores. 1 ed. Oslo: Fungiflora, 1991.
RYVARDEN L. Neotropical polypores part 1. 1 ed. Oslo: Fungiflora, 2004.
RYVARDEN L. Stereoid of America. 1 ed. Oslo: Fungiflora, 2010.
RYVARDEN L. Neotropical polypores part 2. 1 ed. Oslo: Fungiflora, 2015.
NUNEZ M, RYVARDEN L. Polyporus (Basidiomycotina) and related genera. 1 ed. Oslo: Fungiflora, 1995.
PEGLER D. N. Agaric flora of the Lesser Antiless. 1 ed. London: Kew Bulletin, 1983.
DINGLE, J.; TEID, W. W.; SOLOMONS, G. L. The enzymic degradation of pectin and other polysaccharides. J. Sei. Food Agric. v. 4, p. 145-149, 1953.
Agaricales in Flora do Brasil 2020 under construction. Jardim Botânico do Rio de Janeiro. Available at: <http://floradobrasil.jbrj.gov.br/reflora/floradobrasil/FB12>. Accessed on: 16 Jul. 2020
BONONI, V. L. Fungos macroscópicos de Rio Branco, Acre, Brasil. Hoehnea, v. 19, p. 31-37, 1992.
SANTOS, G. S. Diversidade e atividade antibacteriana de basidiomicetos amazônicos. 2017. Dissertação (Mestrado em Ciência e Inovação Tecnológica) - Universidade Federal do Acre, Rio Branco – AC.
GOMES-SILVA. Diversidade de fungos poróides (Agaricomycetes) na Amazônia Brasileira. 2013. 298 f. Tese (Doutorado em Biologia de Fungos) – Universidade Federal de Pernambuco, Recife, PE.
SILVA, C. G.; TEIXEIRA-SILVA, M. A.; SILVEIRA, M. Macrofungos da Área de Proteção Ambiental Lago do Amapá e Novas Ocorrências para o Estado Acre. In: SILVEIRA, M.; SILVA, E.; LIMA, R. A. Biodiversidade e biotecnologia no Brasil 1. Rio Branco: Stricto Sensu, 2020, p. 155-176.
DE MATTOS-SHIPLEY, K. M. J.; FORD, K. L.; ALBERTI, F.; BANKS, A. M.; BAILEY, A. M.; FOSTER, G. D. The good, the bad and the tasty: the many roles of mushrooms. Studies in Mycology, v. 85, p. 125-157, 2016.
DEMIR, M. S; YAMAÇ, M. Antimicrobial Activities of Basidiocarp, Submerged Mycelium and Exopolysaccharide of Some Native Basidiomycetes Strains. Journal of Applied Biological Sciences, v. 2, n. 3, p. 89-9, 2008.
ERJAVEC, J; RAVNIKAR, M. Antibacterial activity of wild mushroom extracts on bacterial wilt pathogen Ralstonia solanacearum. Plant Disease, v. 100, n. 2, p. 453-464, 2016.
PETROVIC, J.; GLAMOCLIJA, J.; STOJKOVIC, D. S.; CIRIC, A.; NIKOLIC, M.; BUKVICKI, D.; GUERZONI, M. E.; SOKOVIC, M. D. Laetiporus sulphureus, edible mushroom from Serbia: Investigation on volatile compounds, in vitro antimicrobial activity and in situ control of Aspergillus flavus in tomato paste. Food and Chemical Toxicology, v. 59, p. 297-302, 2013.
MUSÍLEK, V.; CERNÁ, J.; SASEK, V.; SEMERDZIEVA, M.; VONDRACEK, M. Antifungal antibiotic of the Basidiomycete Oudemansiella mucida. Folia Microbiologica. v. 14, p. 377-387, 1969.
BRIZUELA, M.; A.; GARCIA, L.; PEREZ, L.; MANSUR, M. et al. Basidiomicetos: nueva fuente de metabolitos secundarios. Revista Iberoamericana de Micología, v. 15, p. 69-74, 1998.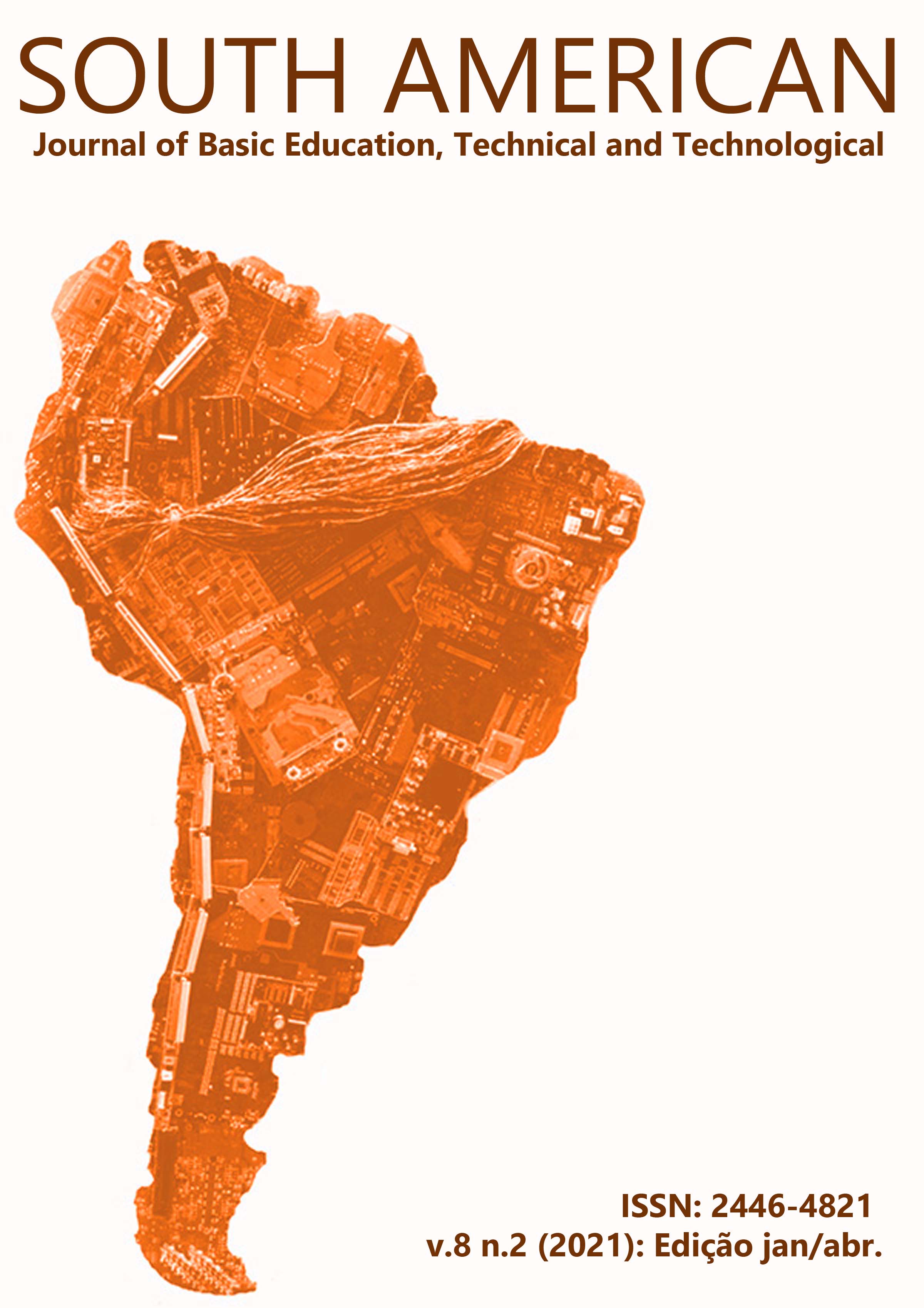 Downloads
Como Citar
Maria Rosiane Lima da Costa, Souza Santos, G., & Clarice Maia Carvalho. (2021). OCCURRENCE AND ANTIMICROBIAL ACTIVITY OF AGARICOMYCETES OF THE STATE OF ACRE, BRAZIL. South American Journal of Basic Education, Technical and Technological, 8(2), 202–216. Recuperado de https://periodicos.ufac.br/index.php/SAJEBTT/article/view/4300
Seção
Artigos Originais Ciências Biológicas